Pamali: Indonesian Folklore Horror
Devlog #2 - Learning the Ropes to Audio Design
---
Hello and welcome!
As this is my first official DevLog, I think it's appropriate that I give a small introduction of who am I and what I do. My name is Kevin and I'm currently working as an audio engineer intern in Storytale Studios, a small start-up company determined to make an impact on the Indonesian gaming industry.

An interesting fact is that my main asset to fulfill that role is simply my passion for music and gaming – I had no formal education in sound engineering, computer engineering, design, or anything at all suited for a career path in the gaming industry! I was very fortunate to have this opportunity when my friend (the technical director for the current project) offered a chance for internship and was willing to work with me despite myself having zero experience in using software to create music. Naturally this was an interesting and enjoyable experience for me as in the few weeks that I have been working here, I've learned so many new skills involving audio engineering, such as recording techniques, sound editing softwares, the art of foley, and other skills needed in order to make a game come alive through audio.

My first task was to help design audio for a project to create an Indonesian folklore horror game. This was already a big challenge for me as I naturally dislike the horror genre, although this feeling lessened as I worked on the project. Before coming to the office for my first day I prepared myself by Googling and watching Youtube videos on the basics of audio editing as well as playing around with the software that I will be using (Adobe Audition, Fruity Loops, Audacity, to name a few). When I joined the project the main soundtrack theme for the game was already there, so my first task was to find sound effects for interacting with certain household objects in the game. There were many ways that I utilized for creating those sounds – for most of them I looked up existing commercial-free soundtracks on the Internet, some of them were created digitally using computer programs, some I created with real household objects that I find around the office. Some sounds that I recorded for a certain object actually came from a completely different object! I looked up the art of Foley on the internet and learned to push the limits of my creativity in creating sounds from various sources. For example, the sound of bones cracking does not have to come from recording audio while cracking real bones, but by snapping vegetables such as celery and syncing it with the graphics can create the illusion that it was really the sound of bones cracking.

One of my other tasks was also to record in-game dialogue for the game – a long and arduous task but which I took upon with great enthusiasm. I worked with several people who were the voice actors of the game and a simple recording equipment placed in a simple room (we're still a small company so our facilities were very limited!). The software Adobe Audition was used for both recording and for editing the raw audio files. Since we did not record inside a completely soundproof studio, we had to make up for the lack of raw sound quality with audio cleaning, noise reduction, parametric equalizer, and other features in the program's effects rack in order to produce game-worthy audio quality. I did a lot of tinkering and exploring of Adobe Audition's features in order to find methods of increasing sound fidelity – for example, increasing the bass levels for the dialogues so that it doesn't sound like some cheap recording. There were also automated features for manipulating vocals (such as adding a layer to make someone's voice sounds like it came from the radio or from the telephone receiver) that I had so much fun exploring as well.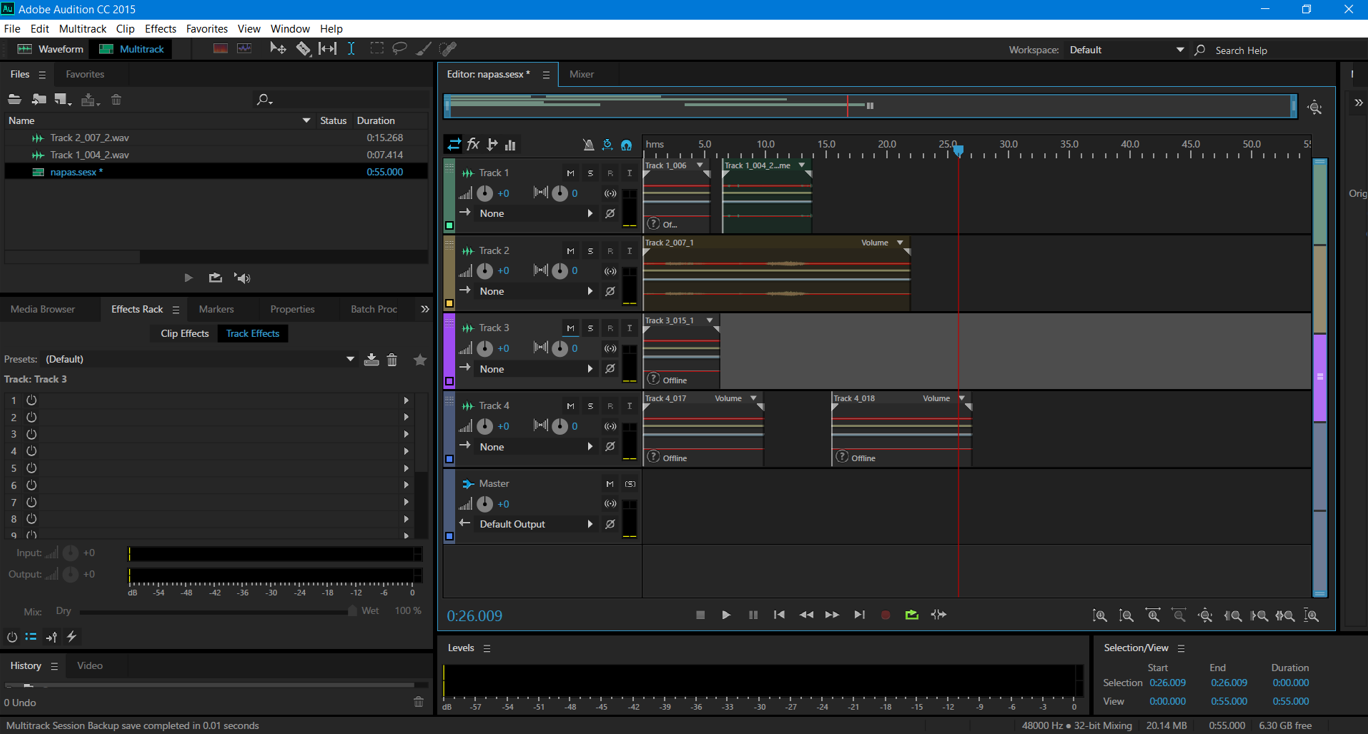 Recording & Editing Audio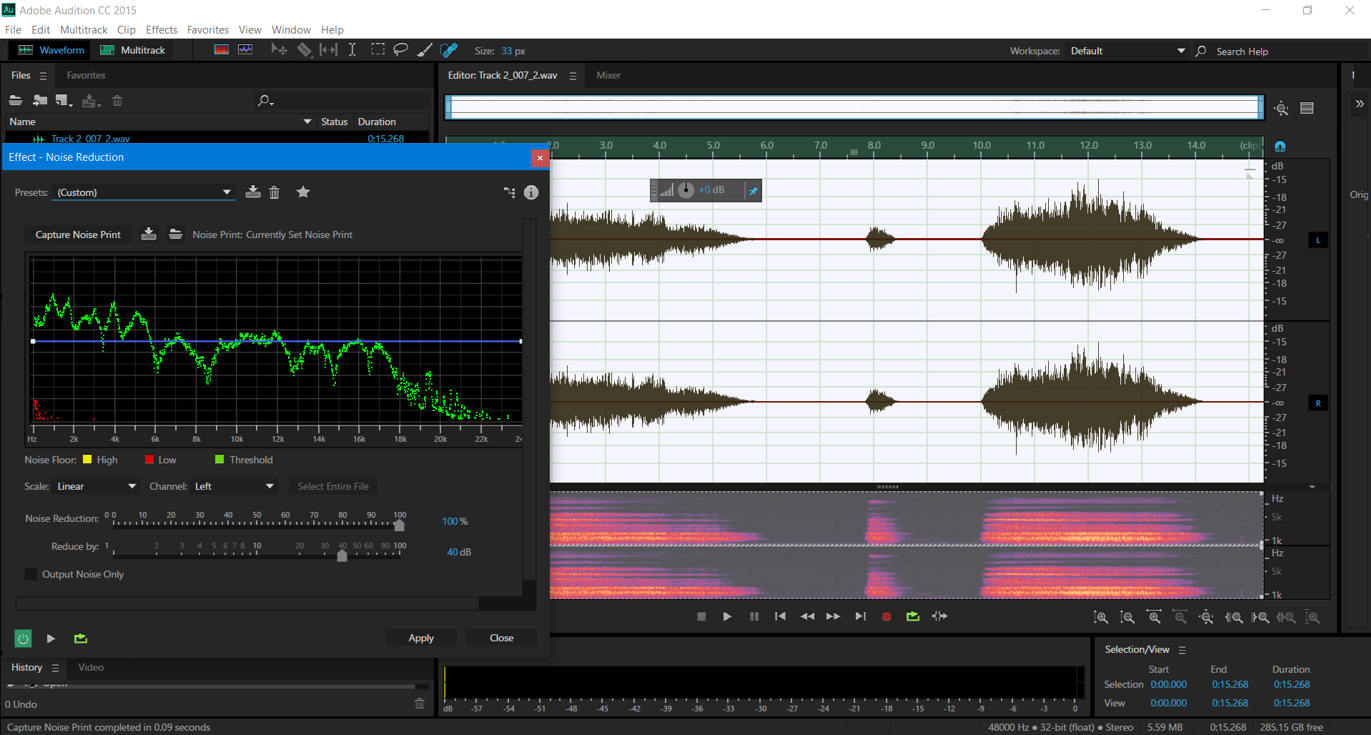 Cleaning Audio by Noise Reduction

My earliest challenges came simply from the lack of experience and having to learn from scratch about audio engineering. At the beginning work was slow because I wasn't accustomed to several audio editing softwares that I had to use. I had to do a lot of self-teaching from the Internet and asking various people for opinions on the sound that I created – dealing with criticism was tough but each of them helped me to learn something new. I also had to work with limited equipment – on multiple occasions I had to use simpler programs for audio editing because my personal computer wasn't strong enough for the more advanced programs.

Overall the whole experience was very enjoyable for me, as I felt that the effort I exerted was paid off with the knowledge I gained. I also wanted to give a message to those of you out there who are maybe interested in audio engineering and are probably confused where to start: never give up on learning and doing new things, and don't be afraid of making mistakes! There were many obstacles ranging from lack of knowledge to lack of equipment quality, but having a passion for music and a positive learning attitude really helped me to overcome those obstacles. That's all for my first DevLog, hopefully it was a good read for those people who had just begun embarking on the world of audio design such as myself!

To close up, this was a sample of my first attempt creating jumpscare hit sound effect used in the game, where I layered multiple sounds with Adobe Audition (a piano slam layer was created using FL Studio):